Introduction - "2-Hour Skirt" workshop and demo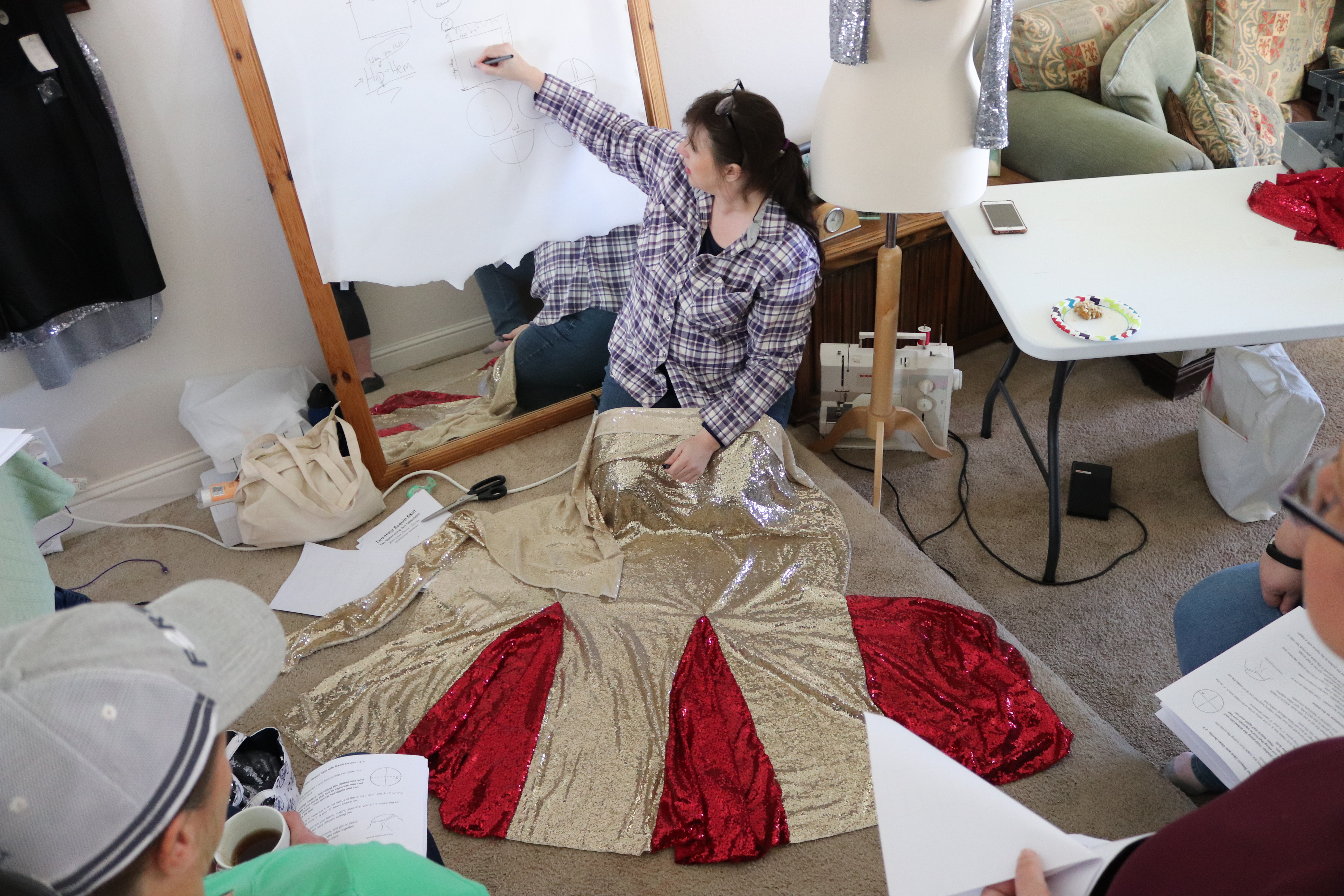 Two-Hour Skirt Workshop
Hi there, my name is Dawn Devine aka Davina and I'm a working professional costume designer, sewing instructor, and author of DIY costuming books like "Costuming from the Hip," and the international bestseller "Embellished Bras." My books are available on Amazon or direct from me via my Etsy shop.
Live Workshop/Demo
Two-Hour Skirt Workshop
Sunday, April 25, Noon Pacific
90-minute talk, demo & Q&A session
$25
When you purchase this workshop, the live zoom link will be on the next page. We will attempt to record the talk, and if the recording is good, we'll upload the replay for future watching. Technical glitches and difficulties can happen, so we cannot 100% ensure that the replay will be available. We will do our best!
During this 90-minute presentation, I'm going to introduce you to my method for making not one, but three different styles of micro-sequin dance skirts: gored skirt, yoked skirt, and circle skirt.
During this talk I'll be sharing with you:
Materials needed to make these skirts and where to source the fabrics and notions.
Pattern making in situ, directly on your fabric to save time.
Cutting techniques to reduce time and minimize fabric waste.
Sewing methods from needle selection to how to manipulate and hold the fabric while using a conventional sewing machine
Fitting strategies to get the look you want.
This workshop includes a printable eBook "Two-Hour Skirt" that includes:
Materials shopping list with sourcing strategies
Order of Construction broken down step-by-step
Directions sewing machine set up optimized for best results.
Tips List for best sewing practices
Circle calculation chart
Photos by Alisha Westerfeld. Yoked skirt modeled by Sara Shrapnell. This skirt made start to finish in 45 minutes during an in-person workshop in Feb. 2020. I use high-contrast colors during my demos so you clearly see how the various parts and pieces fit together and where the seams fall on the body. Imagine if this were all gold or all red - or in your favorite color?
Complete and Continue